When LIVEAGE was planning of GAMEFACE  Japan tour, the United States had a girl from Los Angeles who made a video to support her father. The girl's name is Melody, the daughter of Jeff on the vocal-guitar of GAMEFACE.
[GAMEFACEのジェフの娘さんから応援動画が届きました!]

ボーカル・ギターのジェフの娘さんと学校のお友達が、GAMEFACEの日本ツアーの成功を祈り、GAMEFACEの曲にのせて動画を作ってくれました!

これは自分が親だったら涙で前が見えないですね!素晴らしい娘さんです! pic.twitter.com/xb3jHs8Fqr

— LIVEAGE (@LIVEAGE_info) January 27, 2018
The video was a wonderful video that every dad couldn't see without tears, and as a result, there was greatly mobilized.Melody was 13 at the time. And after GAMEFACE made a great success in Japan tour, she released an EP under the name of Melody!
And this winter, Melody released 2nd EP. LIVEAGE consulted with his father, Jeff, and decided to interview Melody.
Probably her first interview. Then Fuckin 'GO !!!
Interview by Yoshi Yada(LIVEAGE)
–Hello, Melody! This is Yoshi of LIVEAGE's editor in chief who invited your father's band"GAMEFACE" to Japan.
Congratulations on the release of a new EP! This is a great work! Let's start the interview!
How old are you now? Are you a junior high school student?
Melody : I am 15 years old right now and am a high school student in my sophomore (10th grade) year.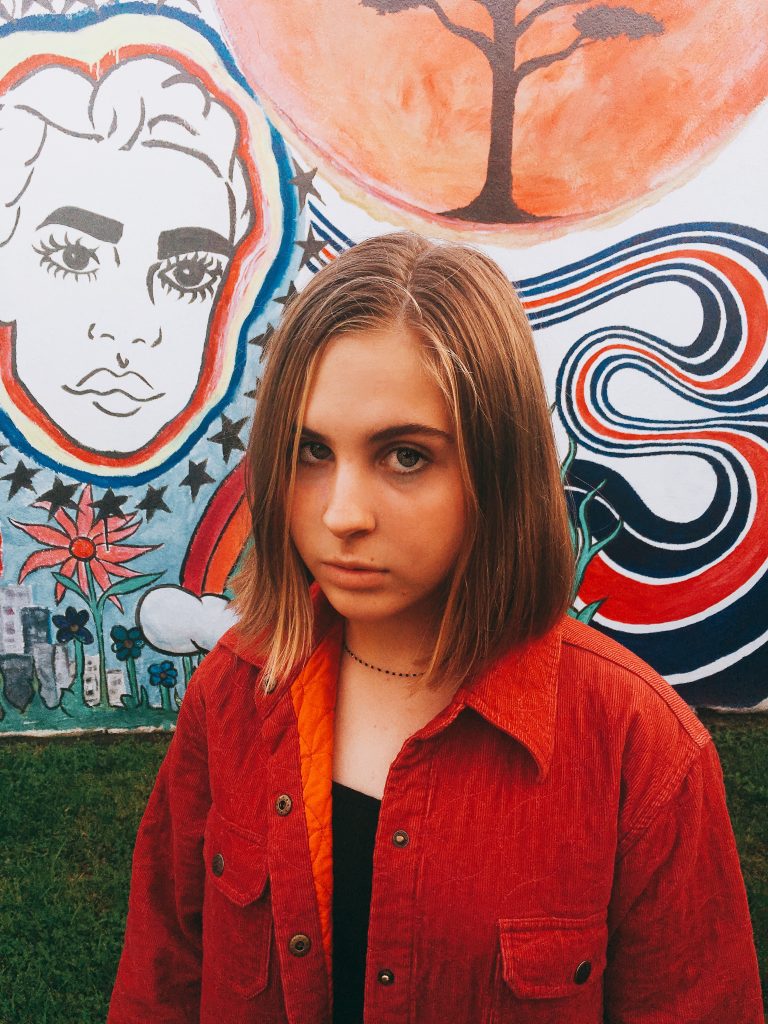 –When did you start instrument? What instruments can you play?
Melody : I've been playing piano and singing since I was about four and took lessons since then up until about last year. I started guitar about two years ago, mostly teaching myself and getting a few tips from my dad. I have also taught myself the ukulele and am currently teaching myself the kalimba! In the future I hope to add bass to the list of instruments I can play.
–When did you first sing in public?
Melody : I first sung in public about a year ago when my first EP came out at a gun control activist event. Since then, I've only preformed a few times; at my grandmas art studio, and then two small shows with my dad. I sang harmonies on a Jawbreaker and Phoebe Bridgers song with him, and played a few songs off of my new EP, 'Teacher's Pet'. It was pretty nerve wracking at first, but after the first song it was so much fun.
–Please tell us three artists that you are influenced by.
Melody : I'm influenced a lot by Snail Mail, Elliott Smith, and Phoebe Bridgers. All three of their styles have differences and similarities, but the three of them represent my taste in music and the type of artist I aspire to be pretty well. Along with the instrumentals and styles of these artists, what inspires me most about them is their thoughtful lyrics. They write very personal, emotional songs, and I have a very honest, personal writing style because of their lyrics.
–I think your new EP "Teacher's Pet" feel like THE CURE and SUPERCHUNK, Mary lou lord, etc…
Great melody and exciting rhythm. That's the best!
Melody : Wow, thank you so much! I discovered that style of music from my dad. He's always played those bands in the car and around the house since I was really young, so I've definitely been influenced by them for pretty much my whole life.
–Who played this EP's instrument? Anyone appearing in Teacher's Pet's Music Video?
Melody : On all of the songs, I played most of the guitar and all of the keyboard. My producer/sound engineer played bass, drums, and a few guitar leads. On 'Mosquito Bites', the drummer in the music video played drums, and my other friend (not in the video) played lead guitar! Unfortunately no one else in the video actually played on the EP.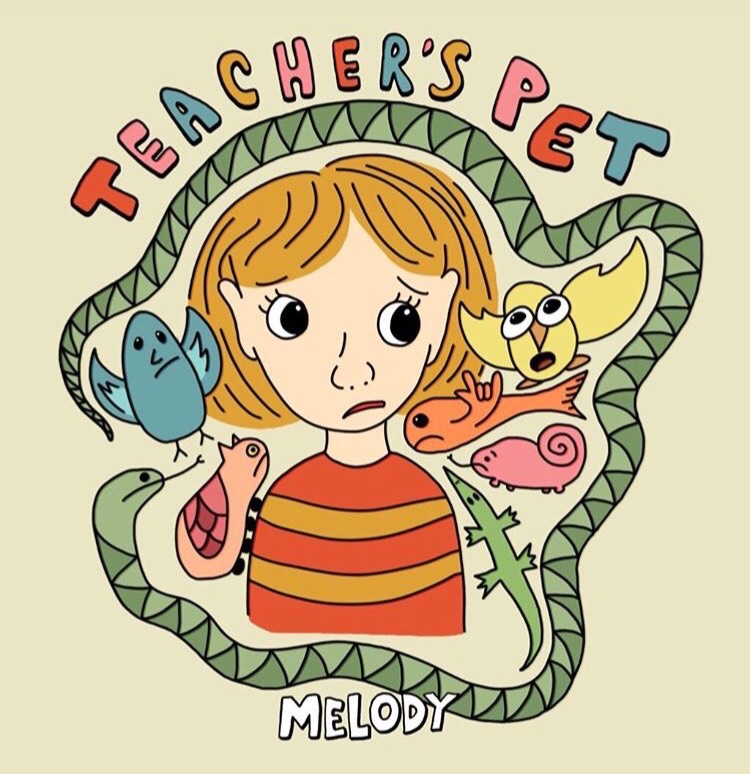 –What kind of things do you sing in "Teacher's Pet EP"? Please teach Japanese who are not good at English.
Melody : My EP talks about issues with self confidence and finding my place in the world. The name "teachers pet" stands for rising above the labels you've been given by others or yourself, and figuring out who you truly are in your heart. It describes normal high school experiences from a introverted person's perspective, and deals with the hardships of teenage friendships and relationships.
–"Thirteen EP" was a work when you were 13 years old. How did "Teacher's Pet EP" grow from "Thirteen EP"?
Melody : 'Thirteen' EP was more of a way to record the songs I had written over the past year. I didn't have much intention about who I was as an artist while making it, and at first I didn't even know it would be released! When making 'Teachers Pet', I knew exactly who I wanted to be as an artist and had a clear vision of the songs before recording them. I still have a lot of room to change and improve, but I'd like to think that I've really grown as an artist because of this EP.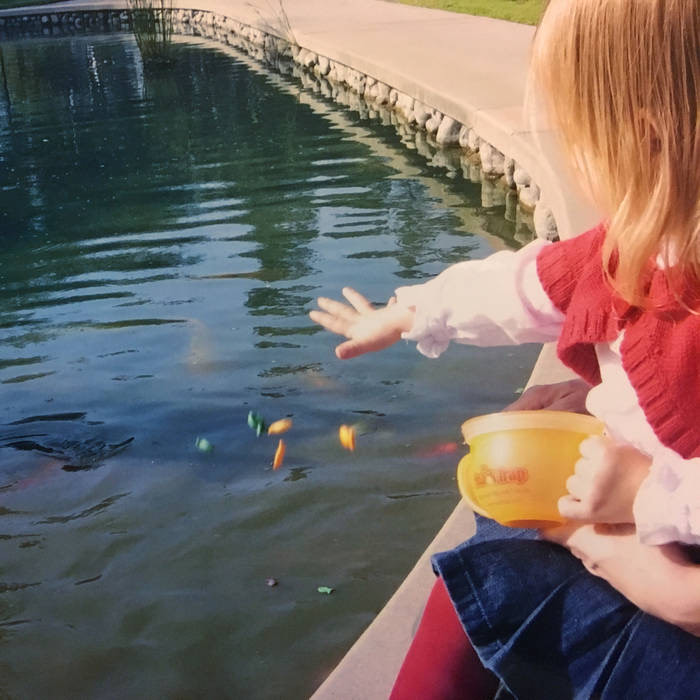 –What kind of person are you at school? It's true that American schools have a caste system (cheerleaders have most power … etc)?
Melody : Wow, I love this question! I think about this idea often. You are right about the caste system, and it definitely exists at my school, which I talk about a lot in 'Thirteen' and 'Teachers Pet'. I've always been very aware of the social hierarchy of high school. There are always people you think are cooler than you. Sometimes I feel like a teachers pet, sometimes an invisible music nerd, and sometimes super cool. Because my feelings are always changing I realized this caste system is all up to how you feel about yourself. The songs 'Teacher's Pet' and 'Superlame' are about this. I'm somewhere in the middle,m – where the "artsy" kids are. I am a pretty quiet person at school: people know who I am, but I'm more of an observer and artist when it comes to the social aspect of school. I tend to notice things and write about them rather than be involved in them. I'm in the film program at my school, which is where I feel more seen and heard, and have the confidence to speak up.
–Tell me the female artist you are watching now.
Melody : Right now I'm really into Phoebe Bridgers, Snail Mail, Soccer Mommy, Frankie Cosmos, and Speedy Ortiz.
–I think in the United States, Asian female artists are starting to play active. Like Mitski, Japanese Breakfast, Jay som, etc.
Do you know them? What do you think of them. I think Mitski's song "Your Best American Girl" is wonderful!
Melody : I'm familiar with all three of those artists and think that they're all really awesome! It's so cool to see them becoming more popular in the United States. I will definitely start listening to them more because what I've heard from them is great.
–What if you do MERGE Records says "I want to sign with you, Melody"?
Melody : What an crazy thing to think about! That would be such an honor!! I'd definitely say yes of course, but it would also be really scary because I'm so young.
–Do you have a favorite label?
Melody : Sub Pop and Matador are my favorite labels at the moment. I like that they're both signing a bunch of cool young female indie artists that I look up to. It's cool to see so many artists like me getting so much attention!
–Please tell me what you are careful about when making songs.
Melody : Because I'm in high school, any small thing can cause drama, especially the things I talk about it my music. I often write about experiences that involve people at my school, but I can't release those songs because I see those people at school everyday. I definitely have to be careful about how specific I am about the people I write about, because they definitely will hear the song and know it's about them. One time, I released a song that wasn't even about anyone in particular, it was more of a metaphor/social commentary, but people still got upset because they thought it was about them. Ever since that experience I've been extra careful about who I might offend in my writing.
–I think your father (Jeff) has influence to you, of course. what did you learn from your father? I think your talent of making melody is your father's DNA! Because, Your father is great song writer!
Melody : My dad and I are very similar in a lot of ways and he has definitely influenced me in my music career and in every aspect of my life. Ever since I was little, my dad always played music for me which definitely had an effect on my style and taste of music today, but what I think I inherited most was his insightful and emotional side, which definitely shows in both of our song writing. We don't talk about our feelings much, but music has always been our secret language that connects us. I have a deep understanding for my dad and who he is, and I think he has the same understanding about me. I've learned a lot from my father: how to play bar chords, how to be safe when I'm alone at a concert, and how to be myself even when it feels really hard to.
–Your dad has been my hero since I was a college student. Even so after 20 years. He came to Japan and spent the best time together.
What do you think your dad is popular in far away like Japan? So many people asked your father's signs and photos !
Melody : It's awesome to think that my dad has connected with so many people from so far away! It really shows how powerful music is. It's hard to imagine so many people wanting my dads autograph, because to me he's just my dad, but whenever I hear his music I can see why so many people resonate with him so much. It's also really cool that music gave him the opportunity to travel the world and meet so many amazing people like you!
–Tell me three favorite songs of GAMEFACE.
Melody : If I'm being completely honest, I don't know very many Gameface songs as of now. I've been saving listening to all of my dad's albums for when I'm a little older, because hearing my dad's songwriting is pretty emotional for me, in a way that's really hard to explain. Out of what I do know though, my favorite songs would probably be 'My Star', 'Frames' and 'Picture Day'. I know it's a basic choice, but 'My Star' is one of my favorites because it was written about my mom before I was born, which is really cool for me to think about: how my parents are in love and how they have been for such a long time. 'Picture Day' is also one of my favorites, and not just because I was in the music video, but because it was the first song of Gameface that I really knew and it was how I realized that my dad was in real band, which I remember thinking was the coolest thing ever (I still do!). My final favorite is 'Frames' because I played piano on it, and because the lyrics make me really emotional.
–What do you think of the band GAMEFACE?
Melody : I love the band Gameface! Like I mentioned earlier, my dad and I have pretty much the same music taste and he is honestly my number one inspiration.
–How do you feel "my father is a bandman!"?
Melody : It's really cool that my dad is in a band because he can give me advice about music that I wouldn't have if he didn't have all of the musical experience that he does. It is also because of him that I have the opportunity to record my music, which most kids my age don't have. I'm really thankful that he's as passionate about music as I am, and of how supportive he is. Also, it helps for when I want to buy concert tickets. He'll never pass up an opportunity to see a band live :).
–Please tell me what your father for you is?
Melody : My father is so many things to me. Like I said before, he's my inspiration, he's my number one fan, but he's also the only person who I feel truly understands my passion for music. I love that, when I show him a band that I like, he actually listens to them and tells me what he thinks, other than people that I've met who never even get around to listening to it. We have the same appreciation for the same things and that is my favorite part about our relationship.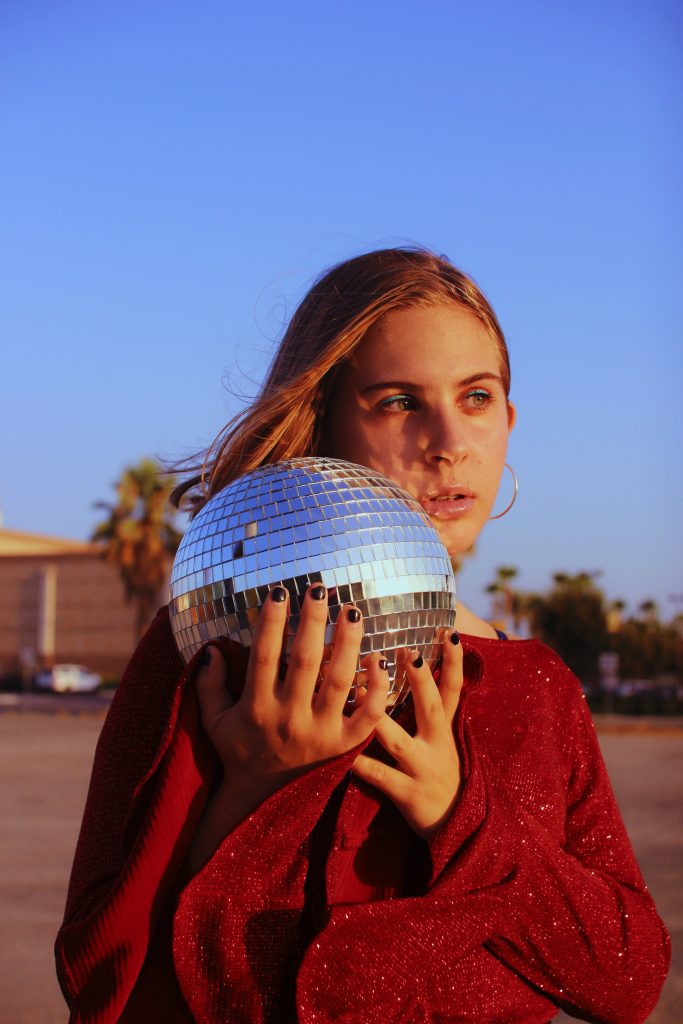 –Are you interested in the D.I.Y punk scene where your dad played?
Melody : Yes I am! I really like the culture of it. It's very unlike the culture that is now, with social media and everything. It's more carefree and chill which I find really refreshing.
–Are you doing gig now? Please come to Japan someday! I want you to come with your dad's solo. I will support you with LIVEAGE.
Melody : I've been doing a few small gigs here and there but not too much. I hope to start playing real shows this summer or next year. I would absolutely LOVE to come to Japan someday!!! Please let me know when you want us to come. That would be a dream come true!
–Lastly, please give a message to everyone listening to Melody in Japan!
Melody : To everyone listening to Melody in Japan, thank you so much for supporting my music! The fact that anyone in Japan knows my name is so cool. Keep an eye out for more music videos and a single coming soon…